See the number one male escort in the world!
If you Google "male escort", I'm the top result for an independent. Currently ranking 48 for "male escort." everything above me is directories, agencies and news articles. I'm also on all those directories and in most of the news articles 😉
I've been interviewed by dozens of leading media outlets, had articles published about me on many sites and had my stories translated into dozens of languages and published worldwide.
Here's an article about me on Cosmopolitan.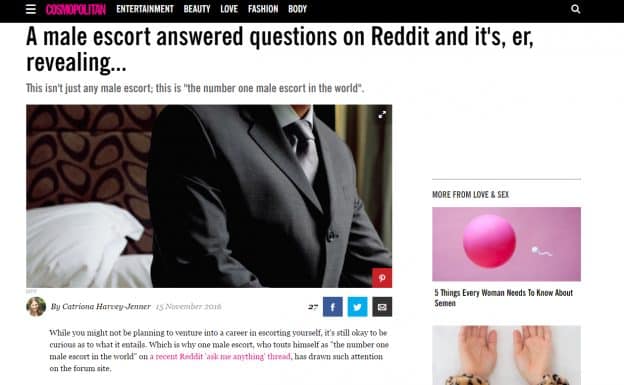 An article about me by Esquire.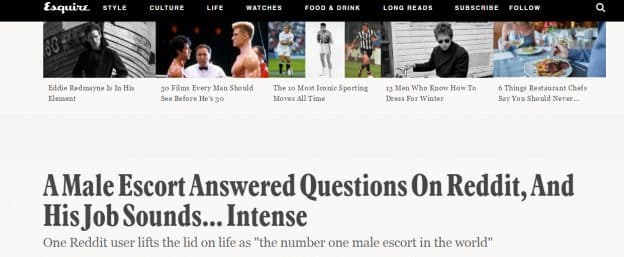 Another piece about me on Mail Online from an interview I did with Tracy cox for her Femail Column.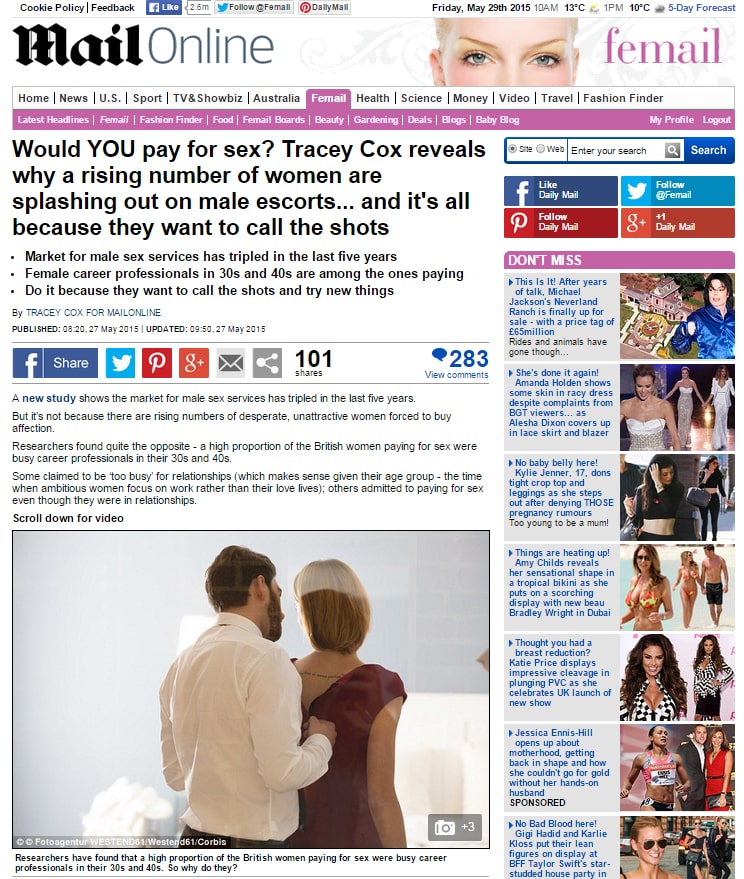 And a radio interview I did for the BBC on The Kaye Adams Show .

I specialise in duos, cuckolding, couples and forced bi. If you search for "duos male escort", "cuckolding male escort", "couples male escort" or "forced bi male escort", my site is the top google search result for all of those search phrases.
I'm from Australia and usually based in London. I tour internationally, taking  many short trips to European cities and often visiting Dubai, New York and Hong Kong.
I'm tall (6'5inches/195cm), very toned and athletic, very well endowed (9 inches/22cm) uncut and good looking. I'm a trained and licensed masseur having completed courses in Swedish, Thai and Tantric massage.
If you'd like to read about my international tours and adventures, erotic and otherwise, please subscribe to My Blog.
People often tell me I'm very relaxing to be around and they find me a calming influence etc so I'm great with nervous first timers eg bi or kink curious guys who've never been with a man or never tried BDSM, people trying out other fantasies and fetishes for the first time and couples trying their first MMF threesome or guys trying their first MMF escort duo always seem to go from being tense and nervous at first to feeling relaxed and horny very quickly when they're with me.
You'll find that I'm always exactly on time for your outcall and 100% prepared to see you at the time you book for your incall.
I never take drugs, never bareback and I get tested regularly.
I don't kiss men. This doesn't mean I don't like you. Its just something I don't enjoy. All the services I offer are things I enjoy.
I'm not desperate for money at all. I have no addictions, no debts and no needy relatives. I have investments and savings. So I feel zero pressure to say yes to bookings I don't want. I see on average one client per day but I'm contacted by people every day who's requests don't match the services I offer so I politely decline to see them. Its better for me and for you if I say no if we're not going to enjoy our time together.
If I agree to see you it means I think we're a good match in terms of the services I offer and what you're looking for. Your age, body type, race, nationality, looks etc won't affect whether I'll see you at all. But if you seem pushy, aggressive, inclined to try to haggle my rates or try to pressure me to offer services I don't offer, I won't see you.
There will never be anyone leaving when you arrive or arriving when you're leaving. You won't feel rushed and I don't mind if you go a bit over the hour. I'm happy to extend if you want an additional hour. You can shower at my place before and/or after. I'll always offer you a drink. My flat is very private, discreet and always clean, and comfortable with red LED lamps and sexy tunes playing.
I'll get hard for you, guaranteed, and stay that way and if you want me to cum, I will. If you want me to bottom, I'll douche before you arrive so I'm clean.
I never show my face in pictures or videos. Once online these images could be impossible to get rid of and linked to my identity via future facial recognition and reverse image search technology. It's not a risk worth taking in my opinion.
Let me know if you'd like me to arrange escort duos or four handed massages with female and transsexual escorts. I can arrange multiple escorts if you're planning a party and I know a lot of Mistresses in London and around the world who I do forced-bi, cuckolding and double domination sessions with.
Contact me to arrange an appointment.
Oz
+447521577026