07/10/2021
My duo partners recommending me.
08/08/2021
A review from a sexy woman client who came to see me to make a hotwifing video clip to take home and watch with her husband.
07/08/2021
Naby and Lui sent me this review. Thank you! Always a pleasure xx
18/09/2020
A review from two of my hottest regulars. A gentleman and his sexy, multiple orgasmic, Asian wife. He loves watching me fuck her and she loves being watched and has fallen in love with my Bigdownunder and my Doxy Wand Vibrator!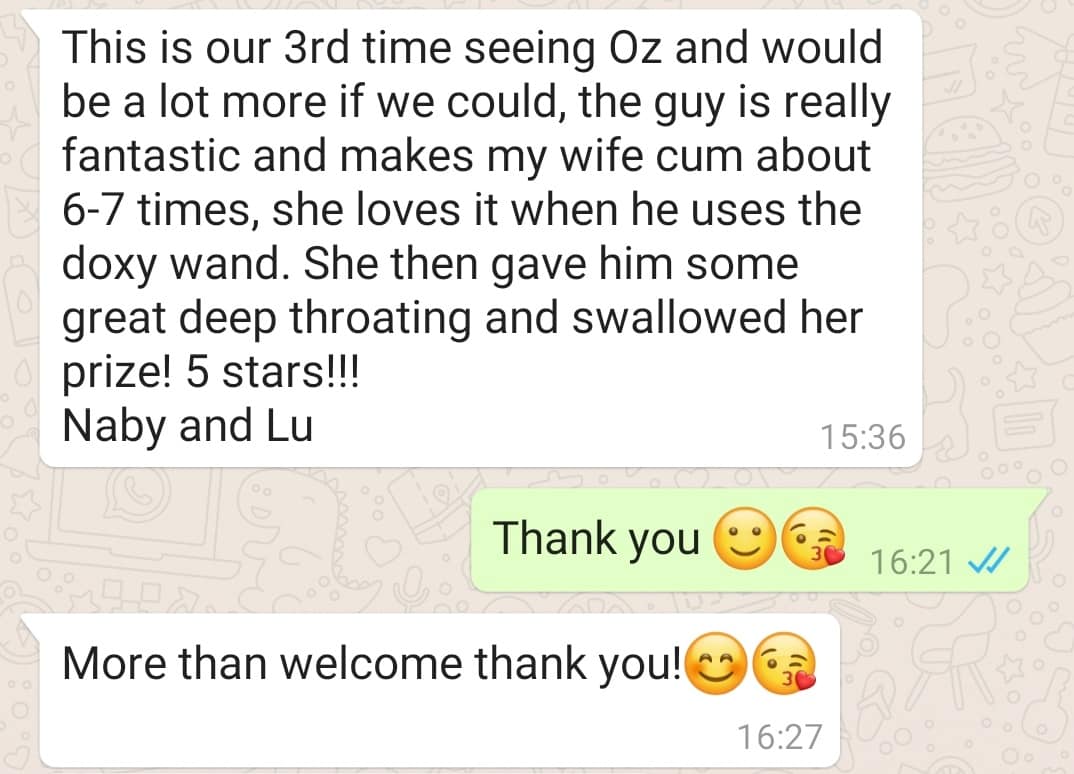 29/02/2020
Review from a sexy couple seeing me for a second time as an outcall voyeur session. D loves watching me pleasure his curvy, very sexy paramour.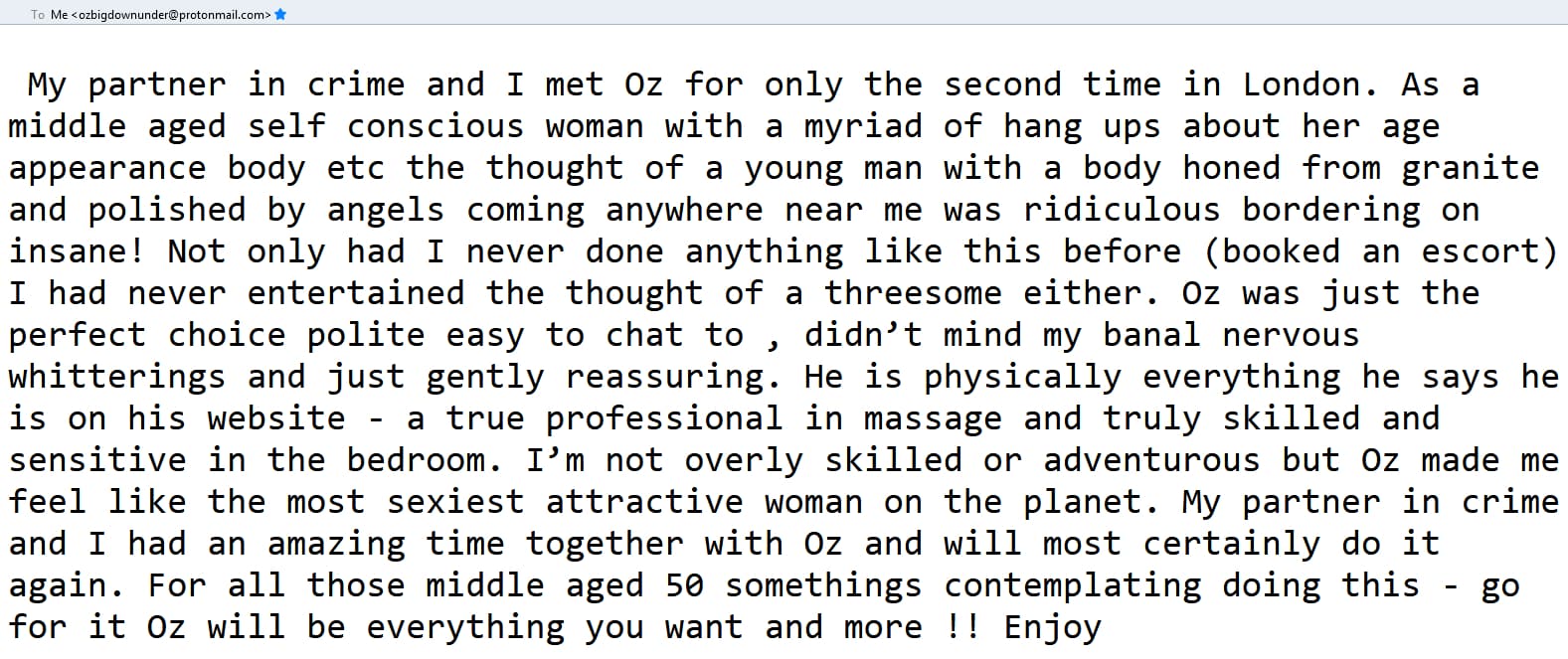 My Reply
Hi E,

Thank you very much for the review. I'll definitely post that on my site. Extremely proud to have earned your praise. You and D are awesome. Incredibly sexy and fun. I love the dynamic you two have where you accuse him of being a corrupting influence and talking you into doing naughty things. He is and he does and I can see you love him for it and you're just as naughty as he is. Sex with you is always super hot. Love licking your pussy and making you cum and can't get enough of the view of your tits bouncing when I fuck you! Say hi to Bob the vibrator for me.

Love,

Oz
Another sexy couple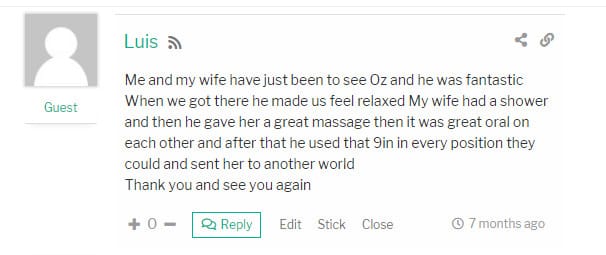 Some older reviews from Anna's Angels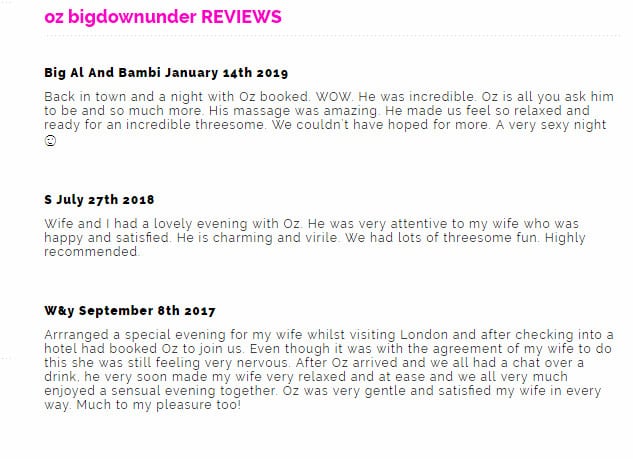 16/06/2023
An inexperienced woman client, very sexy with delicious curves who loved my clit sucker toy.
12/01/2023
Testimonial From Client for Trio With Goddess Cleo and Foxtress
10/08/2022
MMF Threesome
20/02/2022

A Cuckold Couple
10/02/2022
One of my sexy duo partners sent me a review to post here
Had an amazing time with Oz Bigdownunder. Our naughty foursome took place downtown in a very comfortable five star hotel. We started the evening with cocktails before retiring in private to a night of debauchery & fun. Needless to say there was lots of wet juicy lips, hard cocks and fucking warm wet places. Oz is quite the western stallion turning this virginal little blonde into a filthy dirty minx making me beg for more. When the evening ended my pussy was still throbbing for more. But ever the gentleman he took me to a secluded spot and lifting my skirt bent me over to give me a thorough seeing to, as it was quite a public place he dutifully licked up my juices and I swallowed his load so that he could re-dress. I am already looking forward to playing with Oz again.
31/08/2021
Birthday Ravishing
21/02/2020
A review from my favourite horny South African Couple...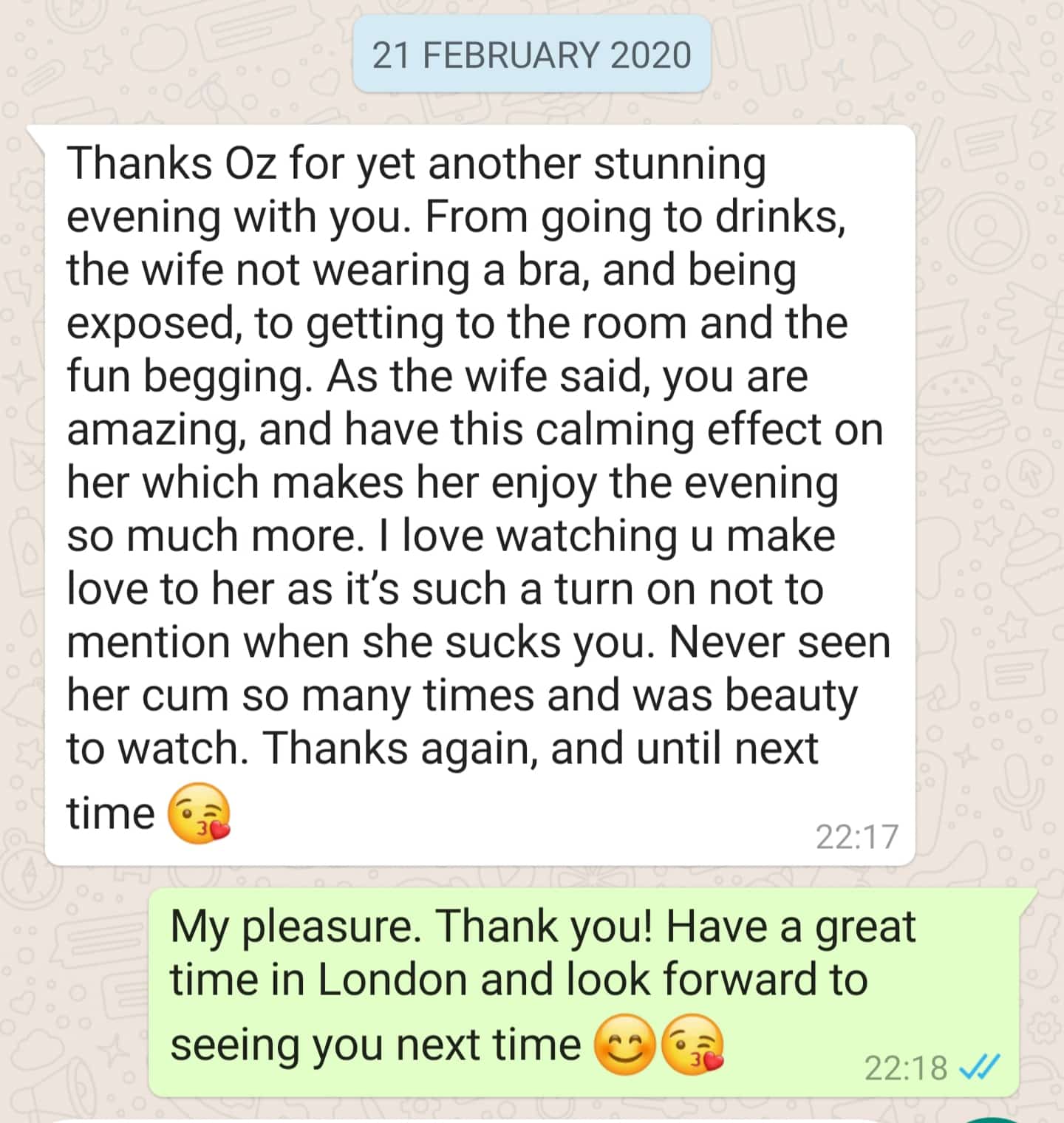 06/10/2019
Another review from my favourite horny South African Couple...